Fast Ethernet - Gigabit Ethernet
SONET - OC3 - OC12 - OC48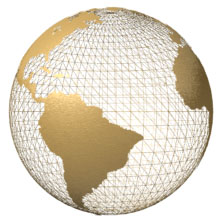 DS3 - Bandwidth on Demand
ATM - Frame Relay - MPLS - VPN
Unclogging WAN Bottlenecks
Your Wide Area Network or WAN may be the bottleneck in your network when you have significant voice or data transfer between facilities. With lower line prices available, unclogging the WAN can cost less than you think and can unleash higher business productivity. T1, DS3, Metro Optical and Carrier Ethernet connections are ideal for the corporate WAN.

OC12 SONET Fiber Optic Service
OC12 fiber optic service prices have been recently reduced for optical carrier SONET and IP transport. Get lower prices on traditional SONET fiber optic services plus Ethernet bandwidth quoted promptly. Find out in seconds if your building or a nearby location is already lit for high performance business (not residential) fiber optic bandwidth services. Simply enter your commercial building address in the form below and check the map results....

Instant Fiber Optic Bandwidth Service Locator

Our extensive telecom and network services are provided by Telarus, Inc., a premier bandwidth broker and master agency. You can get personal support by calling toll free anytime at 1-888-848-8749 to speak with a bandwidth product specialist. These services are appropriate for business addresses only. Please find SOHO (Small Office / Home Office) and residential services here.