Fast Ethernet - Gigabit Ethernet
SONET - OC3 - OC12 - OC48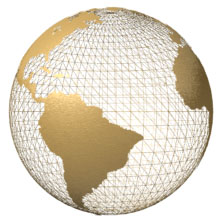 DS3 - Bandwidth on Demand
ATM - Frame Relay - MPLS - VPN
Application: Medical Imaging Transmission
Medical images, such as those generated by Teleradiology equipment, have large file sizes due to high resolution. Rapid transmission between hospitals and medical centers requires high availability, high bandwidth telecommunication services. For smaller offices or infrequent use, a T1 data line might easily suffice. For medium and larger facilities, DS3, OCx and Carrier Ethernet services are recommended.

SONET Fiber Service Prices Reduced!
SONET/SDH fiber optic service prices have been recently reduced for OC3, OC12 and OC48 optical carrier services. Get lower prices on traditional SONET fiber optic service plus Ethernet bandwidth quoted promptly. Ethernet services through 1 Gbps are priced instantly online. Just use this handy form...

You may call a Telarus bandwidth consultant toll free anytime at 1-866-436-7868 and mention Reference #: 129701 to get our best fiber optic and other bandwidth service prices, for business locations only. Sorry, no residential service available.